We are well-known organization in the field of manufacturing, supplying, and exporting Automatic Bottle Washing Machine. Our Bottle Washing Machine is available in two different models offering an output of 30 to 50 bottles / min and 60 to 100 bottles/min respectively depending on bottle sizes. We design the machines which is flexible enough to adjust the wash cycle to fulfill the diverse needs of the clients.
Our manufactured Automatic Bottle Washing Machine is made with the finest quality materials along with the latest technology. The machines are designed by experts in accordance to the industrial standards. We strictly follow and manufacture the machines as per the designs under the guidance professional engineers. These pharma machines have extraordinary features such as excellent corrosion and weather resistance, robust make, user-friendliness, high dimensional precision as well as durability. The provided machines are easy to install and maintain, it's also available at very affordable prices.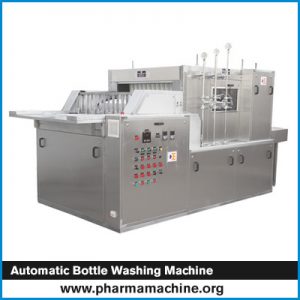 Automatic Linear Tunnel type Bottle Washing Machine
Operation:-
Bottles pushed from Infeed tray and then move on Wiremesh conveyor Belt, which align the bottle in correct position, to enter into the carrier pocket with help of oscillating guide rails. Oscillating arm deliver the bottle inside pocket in mouth down position over spraying nozzles. Multijet sprayers fixed at the top cause contamination between two different waters. Each washing station is provided with an independent Circuit. Carrier pocket is moving with indexing motion. When the baskets have completed their motion the needles are lifted. They penetrate the Bottles, Spraying Jets of water or compressed air then Return Down. The baskets movement then advances by one station. Each station of Bottles passes through the washing cycles selected. The duly washed bottles then delivered to the Out feed try with neck opening upward and then automatically re ordered to a next operation.
Salient Features of Automatic Bottle Washing Machine:-
Machine structure made by SS 304 with argon welded
SS filter housing and Nozzles made from SS 316
Imported Gear Box, Main Drive and Conveyor
Infeed Conveyor Belt system
AC Variable Drives for main drive and conveyor
Pumps with tank (80 liter each) 2 nos
Special pocket system ensures easy and trouble free washing of Bottles for outer and inner side
Water recycling arrangements is possible as per client's requirement
A special clutch device is available for stoppage of the machine in the event, Bottles is over turned or over diameter
Machine also equipped with external washing of Bottles
Machine provided with PLC (Optional) as per customer requirement.
Technical Specification:-
Model
DBWT-100
DBWT-150
DBWT-200
DBWT-250
Output
50 to 100

Bottles/min

100 to 150 Bottles/min
100 to 200 Bottles/min
200 to 250 Bottles/min
No. of Pockets
10
12
16
20
Electrical Characteristics
3.5HP, 415 Volts, 50Hz, 3Kw, 4 Wire System
Tank Capacity
80Liter
Wash Cycle
3 inner + 1 Outer + 1 Air
Water/ Air Consumption
400 Liter/Hr/Cycle/Pressure 2.5Kg@20CFM
Overall Dimensions (LxWxH)
1150x2500x1550
1450x2500x1550
1450x2500x1550
2900x2500x1130
Change Parts
A)    Neck Dia. Bottle Holding Pocket

B)     Flat Container Size: Delivery Chute