We are reckoned as the well-known name for manufacturing and exporting Linear Vial Washing Machine worldwide. These Linear Vial Washing Machines are very much esteemed by our prominent clients for their high performance and low maintenance. Our Linear Vial Washing Machines are known for their unmatched quality and can be operated easily. Our product automatic linear vial washing machine is suitable to wash injectable glass vials. The machine is equipped with seven washing stations which can be interchangeable as per specific customer's requirements. This Liner Vial Washer provides 4 water wash and 3 air wash for positive and pressurizing washes of vials. All contact parts made from AISI SS 316L and non-contact parts from AISI SS 304 materials. Vials invert into neck down position and nozzles enters into vial during washing cycle to meet GMP requirements.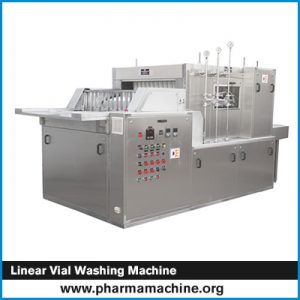 Automatic Linear Tunnel type Vial Washing Machine
Operation:-
Vials are pushed from Infeed tray and then move on Wiremesh conveyor belt, which align the vial in correct position, to enter into the carrier pocket with help of oscillating guide rails. Oscillating arm deliver the vial inside pocket in mouth down position over spraying nozzles. Multijet sprayers set at the top cause the total external and internal surface to be washed. The Sprayers nozzles are moveable in fixed Up-Down position as per customer requirement. To avoid any possible cross contamination between two different water, each washing station is provided with an independent circuit. Carrier pocket is moving with indexing motion. When the baskets have completed their motion the needles are lifted. They penetrate the bottles, spraying jets of water or compressed air then return down. The baskets movement then advances by one station. Each station of vials passes through the washing cycles selected.
The duly washed vials then delivered to the out feed tray with neck opening upward and then automatically re-ordered to a next operation.
Salient Features of Linear Vial Washing Machine:-
⇰ High pressure spray nozzles ensure perfect wash of vials
⇰ Interchangeable wash sequences
⇰ Totally fabricated from SS materials, including the basic frame
⇰ No change parts required for washing of Vial saving time of change over
⇰ All parts coming in contact with washing zones / jet are made from SS 316 materials
⇰ The machine suitable for handling washes of round glass vial
⇰ Water re-cycling arrangement is possible as per customer's need
⇰ Machine is totally rigid and with stands continuous operation for long working. Hours without any trouble
⇰ Higher capacity centrifugal pump to wash bigger container
⇰ Third tank and pump can be fitted (optional)
Technical Specification
Model
DVWT-80
DVWT-100
DVWT-120
DVWT-200
Output
80 vials/min
100 vials/min
12 vials/min
200 vials/min
No. of Pockets
8
10
12
20
Electrical Characteristics
3.5HP, 415 Volts, 50Hz, 3Kw, 4 Wire system
Tank Capacity
80 Liter
Wash Cycle
3 Inner + 1 Outer+ 1 Air
Cycle Timing
3.5 second for each wash + 1.5 second for travelling
Water/Air Consumptions
400 liter/Hr/Cycle/Pressure 2.5Kg @ 20 CFM
Overall Dimension (in mm) (LxWxH)
1150x2500x1550
1450x2500x1550
1450x2500x1550
900x2500x1130
Change Parts
A)    Neck Dia. Vial Holding Pocket
You May Also Search This As:
Packing Conveyor
Pharma Plant for Packing Conveyor
Pharma Machine for Packing Conveyor
Packing Conveyor Machine Manufacturer
Packing Conveyor Manufacturer for Pharmaceutical
Producer of Pharma Machine and Pharma Plant