We are one of the leading manufacturers of Aluminum Vial Cap Sealing Machine specially meant for Automatic powder Injectable vial filling line. Our machines are manufactured utilizing the best materials and components along with the modern technology in accordance to the industrial standards. We offer them in different specifications and also offer them in customized versions as required by the clients. We test the quality of our products under mandatory parameters to ensure that our machines are free from any sort of defects.
The output of this machine is nearly 60 to 150 vials/ min. It seals the vials smoothly and appropriately with the aluminum seals. It is also very energy efficient and function in a very reliable and cost-effective manner. This machine and our Syringe Sealing Machines offers hygienic functionality and is widely preferred in the cosmetic industries, chemical industries, pharmaceutical industries as well as food industries. We offer our machineries at market leading prices.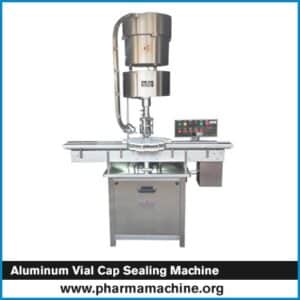 TECHNICAL SPECIFICATION:
| | |
| --- | --- |
| Model No. | DHCS – 150 |
| Number of Heads | 4 |
| Production Rate / Output | 60 to 150 vials/ min. |
| Power Specification | 1.0 H.P, 3 Phase, 1400 RPM / 0.125 HP, 3 Phase |
| Overall Dimensions | 1830 mm (L) X 950 mm (W) X 2050 mm (H) |
| Net Weight | 750 Kg |
| Gross Weight | 950 Kg |
| Power Supply | 0.5 Hp, 440 Volt, 3 Phase, 4 Wire System, 50 Hz |
INPUT SPECIFICATION:
Container Diameter     24 mm to 90 mm
Container Height   50 to 250 mmCap Diameter 20, 25 & 28 mm with the help of Change Parts
Salient Features:
Sturdy
High performance
Very hygienic and nil contamination
Non noisy
Efficient power consumption
Integral Pulse Counter
Machine Stops functioning when there is no cap in the chute
Machine Stop its operation when Container Overturns
Easy changing and setting from one size of vial to another by a single ratchet.
Unique Sealing Rollers provide uniform, dent free, totally tight and reliable capping and sealing.
The parts that come in contact with the vial or aluminum Cap seal or exposed to the atmosphere are made up of Stainless Steel for long life span.
Single Motor synchronizes Conveyor, Star Wheels and Platform Turret and the speed can be altered by VFD.
You May Also Search This As:
Aluminum Vial Cap Sealing Machine
Vial Cap Sealing Machine for Aluminum
Pharma Plant for Aluminum Vial Cap Sealing Machine
Pharma Machine for Aluminum Vial Cap Sealing Machine
Aluminum Vial Cap Sealing Machine Manufacturer
Aluminum Vial Cap Sealing Machine for Pharmaceutical
Producer of Pharma Machine and Pharma Plant