We manufacture high quality Sticker Labeling Machine that is made up of high quality materials as well as components utilizing the latest technology. The machines are made in compliance with the international standards of quality. Since they are designed by the experts and are manufactured accordingly they offer outstanding performance as well as excellent features. We quality test them to ensure they are absolutely flawless.
The output of this machine is about 150 Labels per minute depending on Product and Label Size with an accuracy of + 1mm. The gap between two labels is approximately 3 mm. A Special Sensing system is provided in the machine for checking missing label on product as well as a vision system with OCR system is provided for checking the coding on labels. When the label roll is empty the machine stops with an alarm signal.
Sticker Labeling Machine is designed and fabricated by our expert engineers. These machines offer an excellent output of 150 Labels per minute depending on the Product and Label Size. The accuracy offered is about + 1mm. The gap offered between the two Labels is approximately 3 mm. Since it labels the vials in a very neat and precise manner, it is preferred by numerous industries such as pharmaceutical industries, chemicals & dyes industries, food industries across the world.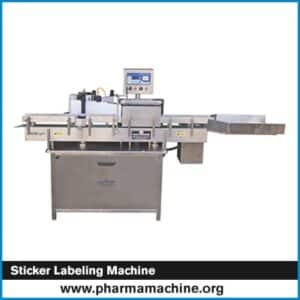 Technical Specification :
Model
DSL- 120 
Label Height
8 mm to 90 mm Standard*
Label Length
12 mm Minimum
Label Roll Dia.
300 mm
Core Dia.
75/76 mm
Gap Between two Labels
Approximately 3 mm
Product Diameter
15 mm to 85 mm*
Electrical
220 VAC Single Phase Power Supply (50/60 Hz)
Power
1.5 Amp.
Capacity
0.75 kW
Labeling Accuracy

+

1mm
Speed
Up to 150 Labels per minute depending on Product and Label Size
Conveyor height
830-875 mm*
Overall dimension
1850 mm(L) X 900 mm(W) X 1250 mm (H)
Overall dimension
Left to Right from operator side
Require Filtered Compressed Air (6 Bar) to be provided by customer only.
We manufacture our Automatic High Speed Sticker Labeling Machine with supreme quality materials procured from the best suppliers of the market and fabricate them utilizing the latest technology as per the industrial standards. We also quality test them thoroughly to make sure that they are totally faultless and offer high performance. We offer them at market leading price rates.
Salient Features:
C. Drives for speed controls
Turn Table and Packing Conveyor
If the Label Roll is Empty the Machine Stops System with Alarm
Very apt for Partial, Full Wrap Around and Overlap Labeling
Tower Light shows the machine status/operation
Comprehensible Label Placing Adjustments
No need for maintenance using Oil or Grease
Provided with Vision System & OCR system for checking coding on labels
Exceptional Sensing system for inspection of missing label on product
Coordinated speed of Label Dispensing, Conveyor and Pressing Device
Pneumatically operated coding system.
You May Also Search This As:
Powder Injectable Sticker Labeling Machine
Sticker Labeling Machine for Powder
Automatic Sticker Labeling Machine for Powder
Automatic Pharma Machine for Sticker Labeling Machine
Pharma Plant for Powder Injectable Sticker Labeling Machine
Pharma Machine for Powder Injectable Sticker Labeling Machine
Powder Injectable Sticker Labeling Machine Manufacturer
Powder Injectable Sticker Labeling Machine Manufacturer for Pharmaceutical
Producer of Pharma Machine and Pharma Plant