We afford wide-ranging of Conveyor Belts for the pharmaceutical industry. Our ranges of conveyor belts are contrived as per GMP standards. Our conveyor belts go on wound packing machines, workstation tables, tablet inspection conveyor, tablet polishing conveyor and many more. Together with the speed control unit, the conveyor belt is mounted on a movable frame which can be adjusted in height.
PVC endless Packing Conveyor Belt
Salient Features:-
  ⇰ Available as per Customer Required Speed, Length, Height
  ⇰ SS 304 Tubular Structure with matt Finish
  ⇰ Imported Gear Box and Motor
  ⇰ Rigid Vibration Free Construction for Trouble free performance
  ⇰ Speed Variable AC Frequency Drive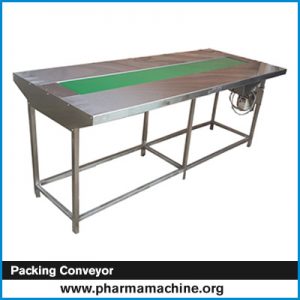 Technical Specification :
| | |
| --- | --- |
| Conveyor Length | 8', 10', 12', 14', 16' Feet Length |
| Electrical Load | 0.25 HP, 3 Phase, 440 Volts, 50 Hz |
| Height | 815mm with 75mm Adjustable Height |
Visual Vial Inspection Conveyor Belt
Operation:-
The central conveyor belt brings the Vial from the capping machine conveyor. These Vials are automatically bifurcated on the two adjoining conveyor belts and further on the side tables for operators sitting on either side of the table. The operators in turn pick up the Vials and visually inspect the Vials in the alternate white and black background to check for any particles in the liquid filled, sealed and breakage of Vial. After inspection the Vials are placed in the central track, which is transfer for labeling.
Salient Features:-
  ⇰ SS 304 Tubler Structure
  ⇰ PVC Black and White Board as per GMP Norms
  ⇰ UHMW self Lubrication Guide below Chain
  ⇰ SS Elegantly Matt Finishing
  ⇰ Adjustable Height of Conveyor Belt to align other machine of the line
  ⇰ Rigid Vibration free construction for trouble free performance
Speed Variable AC frequency Drive
Technical Specification
Conveyor Length
Three Feet Length
Six Feet Length
Eight Feet Length
Out put
30 to 60 Vials /min
60 to 120 Vials /min
100 to 200 Vials / min
No. of Operator
Two (1x1, two side seated)
Four (2x2, two side seated)
Six (3x3, two side seated)
Power Supply
440 Volts, 3 Phase, 50 Hz
Overall Dimension(LxWxH)
1000 mm x 760mmx1325mm
1800mm x 760mm x1325mm
2440mm x 760mm x 1325mm