Our online visual inspection belt is excellent for finding any flaws in the bottles that undergo filling and sealing & capping in the pharmaceutical, food industries, chemical industries and dyes industries as well as fertilizer industries. The pharma machine has three-track conveyor with S.S pipes and is supported on adjustable bolts. These are included with hood as well as lighting system with visual inspection setting of alternating black and white color for finding out the flaws precisely. This machine helps to check and ensure of any particles in the liquid filled in the bottles, any damage in the seals as well as any flaws and breakage in the bottle.
We fabricate this machine in varied technical specifications to fit in broad requirements as well as them. We make them maintaining quality at every stage; from acquiring of the raw materials till the ultimate finishing of the product. We rigorously test the products for their quality in accordance to the industrial standards.
We offer diverse models of online visual inspection belt with an output of about 80 to 120 Containers (Approx.)/min and 100 to 150 Containers (Approx.)/min. These high & reliable performance machines are available with us at very reasonable rates.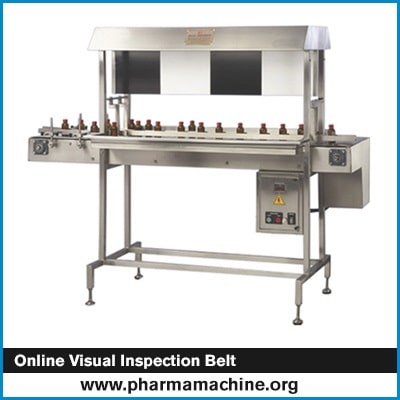 You May Also Search This As:
Liquid Visual Inspection Belt
Visual Inspection Belt for Liquid
Automatic Visual Inspection Belt for Liquid
Automatic Pharma Machine for Visual Inspection Belt
Pharma Plant for Visual Inspection Belt
Pharma Machine for Visual Inspection Belt
Liquid Visual Inspection Belt Manufacturer
Liquid Visual Inspection Belt Manufacturer for Pharmaceutical
Producer of Pharma Machine and Pharma Plant