We are the most eminent manufacturers & suppliers of Automatic Bottle Sticker Labeling Machine in India.  They are apt for labeling all kinds of Bottles and are widely applied in the industries like pharmaceutical industries, cosmetic industries, dyes & chemical industries, food and supplement industries, edible oil industries etc.
The speed of the machine is about labeling 150 Labels per minute depending on size of the bottle and the Label. It is applied for both full and partial label wrapping around the circumference of the bottles. The machine offers user-friendly label placing and label application height adjustments. It is very valuable and time saving and apt for increasing productivity. It is mainly chosen for its precise and neat labeling functionality.
We manufacture Automatic High Speed Sticker Labeling Machine with the best quality materials as well as the state-of-the-art technology as per the industrial quality standards to ensure they offer high functionality for a very long duration of time.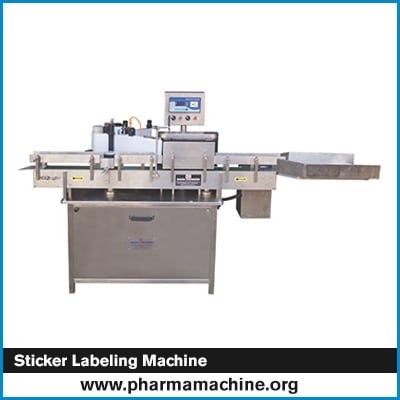 SALIENT FEATURES:
Effortless label application height changing
Has PLC based system with touch screen HMI
Easy Label Placing Adjustments
Parts changing are not needed for change over of container size
High Speed Production with productivity of 150 containers/min
Oil or Grease free maintenance
Appropriate for Glass, Plastic, Pet, Tin, Corrugated containers
Has an option for product data storage
Precise labeling
Machine Stops with Alarm signals when the Label Roll is Empty or missing
Has exceptional Sensing system for examining missing label on the product
You May Also Search This As:
Liquid Sticker Labeling Machine
Sticker Labeling Machine for Liquid
Automatic Sticker Labeling Machine for Liquid
Automatic Pharma Machine for Sticker Labeling Machine
Pharma Plant for Sticker Labeling Machine
Pharma Machine for Sticker Labeling Machine
Liquid Sticker Labeling Machine Manufacturer
Liquid Sticker Labeling Machine Manufacturer for Pharmaceutical
Producer of Pharma Machine and Pharma Plant
Has Vision System for inspection of Barcode as well as presence or absence of Coding