Dhara engineers is the leading manufacturer of Automatic Volumetric Liquid bottle filling machine, which is made of compact, versatile and enclosed in stainless steel with elegantly matt finish body. These pharma machines offer precise filling of the bottles with right quantity of the product in a very hygienic and wastage free manner. Our machines are manufactured with standards of the industry, in order to make certain that our products function flawlessly, and the quality control department thoroughly and austerely quality tests them. They are apt for Liquid filling machines in the bottles with very viscous or thick products that are liable to foaming or products that string or drip. Products that have particulates or chunks, and dry products can also be filled in the bottles using this machine.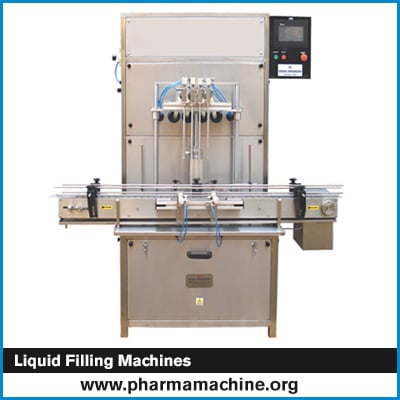 Automatic Volumetric Liquid Bottle Filling Machine
Operation:
Bottles are feed on to in-built Infeed Turn Table, from where it delivered to SS conveyor belt. Conveyor belt transport Bottles o Filling Station. Filling station has Pneumatic bottle stopper for exact bottle neck centering of bottles during filling operation. Nozzle goes upwards slowly from the bottom level of bottle towards neck during filling to minimize forming adjustable nozzle is reciprocating according to filling dose. The dosing block with a hexagonal bolt, this means different fill size can be set easily within minimum use of time. After liquid filling bottles are delivered to capping/labeling machine conveyor for further operations.
Technical Specification:
Model
DLF-50
DLF-100
DLF-150
No. of Heads
Two Heads
Four Heads
Six Heads
Output
20-40 Bottles / Min
40-80 Bottles / Min
60-120 Bottles / Min
Input Specifications
Dia. 30mm to 100mm Height: 210mm

Maximum Customized bottle height can be accommodated

Fill Range
10ml to 500ml – in single Dose with the help of change parts
Electrical
1.5 HP, 440 Volt
1.5 HP, 440 Volt
2.0 HP, 440 Volt
Characteristics
3 Phase,

4 Wire System

3 Phase,

4 Wire System

3 Phase,

4 Wire System

Overall Dimensions

(LxWxH)

1500x800x1500
1500x800x1500
1800x900x1500
Conveyor Height
800mm+- 50mm
Salient features:
cGMP Model
Rigid vibration free construction for trouble free performance
SS Elegantly matt-finished body
Elegant and easy control panel for trouble free performance
Minimum change over time from one size to another container or fill size
User friendly machine
Low maintenance cost
All contact parts mad of SS 316
No Bottle – No filling System
Pneumatic Control Bottle Stopper
Filling Accuracy +- 1% in single dose (Depends upon fill size and nature of liquids)
Machine provided with PLC (optional) as per customer requirement.
You May Also Search This As:
Ampoule Filling and Sealing
Ampoule Pharma Machine Filling and Sealing
Pharma Plant for Ampoule Filling and Sealing
Pharma Machine for Ampoule Filling and Sealing
Ampoule Filling and Sealing Machine Manufacturer
Ampoule Filling and Sealing for Pharmaceutical
Producer of Pharma Machine and Pharma Plant