We are one of the most leading manufacturing industries of Powder Filling Machine, which are renowned for their outstanding performance as they are widely used to fill all types of freely flowing powders. Firmly constructed to perfection, our variety of powder filling machines are easy to operate or handle and occupy minimal space. Our variety include automatic powder filling machines, semi automatic powder filling machines, single head powder filling machine, multiple powder filling machines, toner filling machines, auger filling machines and capsule filling machines. Our provided machines are suitable for dry syrup, talcum, spices powder; flour free flowing powders chemicals, Pharmaceutical powers, food and beverages, cosmetics powder, pesticides powder etc.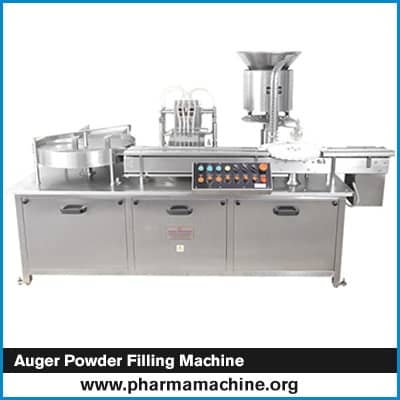 Semi automatic Augur Type Dry Syrup Powder Filling Machine 
Operation:
There are two powders Wheel given for dozing of the powder in the bottles. The powder is stored in a hopper which is agitated by pair of mechanical agitators for maintaining consistency and uniform bulk density. Conveyors relocate the bottles on to the begin plate which indexes the tubes to the powder wheel where dosing of powder takes place. The powder wheel has eight rotating ports which rotate at pre-determined speed below the powder hopper with practically no clearance. The wheel consists of piston in each port, behind which there is vacuum plate again without any clearance with the help of spring pressure. Specific volume of powder is sucked with the help of vacuum, volume defined by the piston length and diameter is dozed in to the tubes while getting index and achieving the position vertically above the tubes.
Salient Features
Appropriate for filling dry Syrup, Granules, Crystals, Food products, Pesticide, Powders etc.
Accurate auger and funnel having non-sticky characteristic.
Machine can be operated in single stroke 20 to 40 fills/ min.
All the contact parts made out of SS 316.
Change over from one fill size to another and one container size to another is easy with no wastage of time.
No container – no filling system eliminates wastage of costly powders.
Electronic controls with solid state contacts.
The keypad can be used for setting weight or volumetric control.
Technical Specification
Model
DHPF – 40
Output
20-40 Fills/ Min. Depending upon powder type  Bulk density & filling weight
Input Specification
Container Dia : 25 mm to 55 mm
Container Height : 36 mm to 100 mm max.
Power Supply
0.5 HP, 440 Volts, 3 Phase, 4 Wires System, 50 Hz
Overall Dimension
550 mm (L) x 700 mm (W) x 1730 mm (H)
Filling Range
5 Grms to 1000 Grms for stroke
Accuracy
± 3/5% Depending upon consistency & Uniformity of powder