We offer high quality Vials Filling Machine that is made with outstanding quality material procured from the most reliable vendors of the market. We fabricate them utilizing the most advanced technologies in observance to the industrial standards. We quality test them to make certain they are extremely free from defects.
These machines offer low noise & vibration free functionality. Every part making contacts with the vial, product as well as rubber stopper are made up of high quality corrosion free S.S. material. This product offer accurate filling in right volume with zero dripping & the stoppering functionality is also very effective and tight. This product is very durable and consistent and has easy to operate control panel. We are the leading Vials Filling & Stoppering Machine Supplier and offer them at market leading price rates.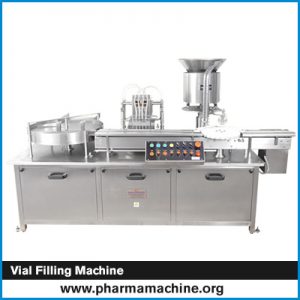 Salient Features:
The incoming dry Vial (sterilized and siliconised) are fed through the unscrambler and suitably guided on the moving delrin slat conveyor belt at the required speed of the correct placement below filling unit. The filling unit consists of filling head, syringes and nozzles which are used for liquid filling. The syringes are made of SS 316 construction and both, glass as well as SS syringes can be used. A Star Wheel is provided which holds the vial during filling operation. A sensor is provided. On same station the Filled Vial pick the Rubber Stopper from Vibratory Bowl to the help of Delivery Suite and place the stopper on Vial using the Roller pressure. The Vial is move for the next operation.
Operation:Automatic Liquid Vial Filling and Rubber Stoppering Machine / Automatic Liquid Bottle Filling Line
  ⇰ No cross contamination
  ⇰ Suitable for the filling Volume of 2ml to 100ml
  ⇰ Piston pump/Peristaltic pump aseptic filling (as per Customer Requirement)
  ⇰ Filling with accuracy of +- 0.5-1%
  ⇰ Easy to validate filling system for small/large batch production
  ⇰ All Contact parts made from SS 316L and framework by SS 304
  ⇰ Variable A.C frequency drive for speed adjustment and Digital Vial counter for counting production output
  ⇰ In-feed Turn Table/ Unscrambler for automatic feeding of objects
  ⇰ On-line Mechanism
  ⇰ No Vial- No Filling System
  ⇰ No Vial – Machine Stop System
  ⇰ PLC with HMI (optional)
Technical Specification:
| | | |
| --- | --- | --- |
| Model | DLFR-30 | DLFR-60 |
| No of Filling Head | Two | Four |
| Production Rate | 15-30 Vials / Minute | 30-60 Vials / Minute Vial |
| Diameter | 15mm to 70mm | 15mm to 70mm |
| Vial Height | 25mm to 140mm | 25mm to 140mm |
| Rubber Stopper | 13mm, 20mm and 28mmWith the help of change part | 13mm, 20mm and 28mmWith the help of change part |
| Filling Range | 2ml to 100ml | 2ml to 100ml |
| Filling Accuracy | +-0.5-1% | +-0.5-1% |
| Electrical Characteristics | 1 HP, 440 Volts, 3 Phase, 50 Hertz, 4 Wire System | 1 HP, 440 Volts, 3 Phase, 50 Hertz, 4 Wire System |
| Optional Accessories | PLC with HMI Safety Cabinet covering full machine | PLC with HMI Safety Cabinet covering full machine |
| Overall Dimension | 1900mm L x 800mm W x 1680mm H | 2000mm L x 850mm W x 1680mm H |
You May Also Search This As
  ⇰ Visual Inspection Both
  ⇰ Automatic Pharma Machine
  ⇰ Pharma Plant
  ⇰ Visual Inspection Both
  ⇰ Pharma Machine and Pharma Plant